2023 Artist/Educator in Residence
Charles Payne is Madison Metropolitan Sewerage District's second Artist in Residence. His residency will take place throughout 2023. 
A self-taught social artist who uses his creative skills to spark change, Charles will engage and empower water stewards by connecting with community members, focusing on youth, through outreach and education activities for his residency. 
In addition to being a social change artist, Charles is also an award winning writer, playwright, storyteller and certified teacher. He uses his creative skill and platform to help lift the voices of underserved communities, elevate important issues, and forge connections between the two.
Charles Payne is a Madison transplant-originally from Michigan, as a child, Charles loved hearing the sound of Paul Harvey's voice and his innate ability to describe every intricate detail; Harvey inspired him to become a storyteller.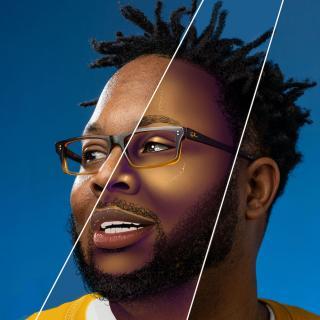 Charles continues the trajectory of community conversations that was begun with the first resident artist in 2022. The main public-facing activities for the 2023 residency center on youth- guiding them through becoming water advocates and helping tell their stories of that process. In addition to public-facing community engagements, Charles will also be consulting with the Sewerage District 'behind the scenes' on showcasing careers in wastewater treatment. 
Water Advocacy Curriculum
Water Themed Story Slam Events
Charles will curate a mix of experienced storytellers and student water advocacy stories to put on two story-slam events in partnership with local organizations. The theme of these events and stories shared will of course be completely water related. Read an example of a water-story, "Water Mark", that Charles shared in the Isthmus in 2021 here. 
Specific time and dates for the story slams are currently TBD. If you'd like to receive a heads up when the story slam time/date/location are announced, please sign up to our email list.